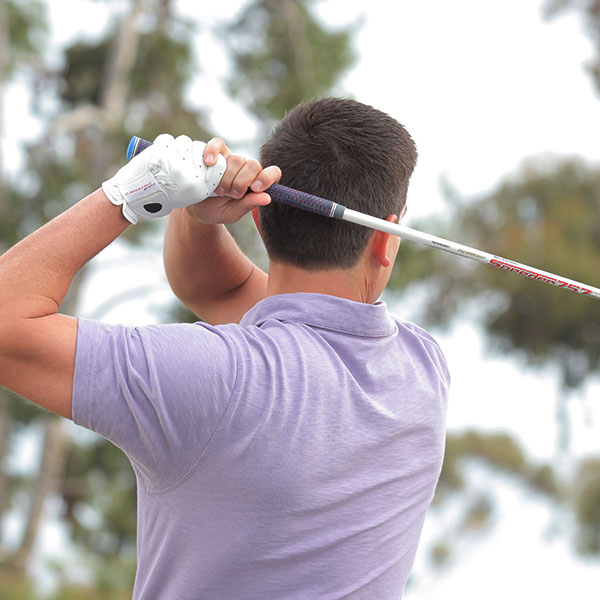 UNDER PRESSURE? WHY IT'S CRUCIAL TO LIGHTEN UP
Is it possible David Bowie and Queen were singing about grip pressure in their iconic "Under Pressure" tune? Highly unlikely, but we recommend listening to the classic hit while reading the following blog just to get in the spirit. Playing yet? Good. Now let's talk golf. Specifically, how one of the most important and often overlooked fundamentals of your game is THE IDEAL GRIP PRESSURE.
Why is slight grip pressure so important? How you grip your golf club is the first piece in a long, winding line of dominos. Too much grip tension tips over that first domino, leading to tension throughout your arms and shoulders, ultimately inhibiting momentum and reducing swing speed. Using the ideal light pressure grip is fundamental to maintaining swing consistency and control. That doesn't mean it's always easy. Intuitively, players use a tighter grip because it creates the feeling of greater control. Just try grabbing a club from someone with a tight grip. But, with golf grips, using lighter pressure allows you to release the club freely and with full extension, and a more fluid stroke that results in more distance and control.
And it all starts with your grip.
And this is exactly why Lamkin created the Z5 grip. With five functional grip 'zones', it was designed to give optimal feedback to different parts of your hands, giving you the feel of a solid grip connection with less pressure. Essentially, different parts of your fingers and hands perceive the sensation of touch very differently, so each zone was engineered to enhance the feel of confidence, control and comfort.
As counterintuitive as it may seem, trust us, LIGHTEN UP to play more confidently, consistently and more comfortably!
Learn more how these 5 zones affect your individual sensory inputs? Click here.