SINKFIT Straight Rubber
SINKFIT Straight Rubber features Lamkin's Fingerprint Technology and Genesis Material to provide a responsive feel, optimized surface tack, and unmatched durability. Its unique contoured shape is designed to promote proper wrist alignment to ensure smooth, repeatable mechanics. It is the perfect option for the golfer with a straight-back-straight-through stroke, utilizing  a claw, palm-to-palm, fingers down the shaft, or split hand putting grip style and prefers a midsize rubber grip.
HIGHLIGHTS
Proprietary Fingerprint Technology featuring a consistent micro-texture pattern for outstanding grip comfort with lighter surface traction
Made with Genesis Material that is slightly softer than traditional rubber but with superior durability
Parallel shape with a subtle contour in the back of the grip to encourage a smoother pendulum-style stroke and proper wrist alignment for a more controlled, consistent putting stroke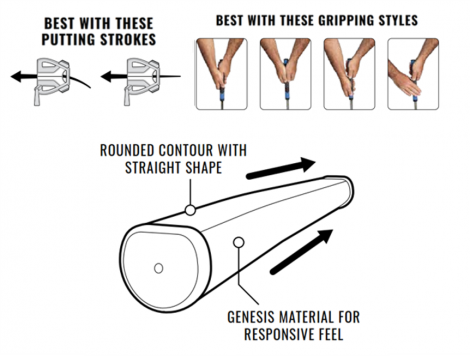 7 Review(s)
for SINKFIT STRAIGHT RUBBER Golf Grips
I've always said it was the equipment, not me, and maybe this proves it! My putting SUCKS & I've gone thru several putters this season! I usually shoot low-80's with lots of 3+ putts. I took my 20 year old Odyssey White Hot #8, in perfect condition, to a local shop and installed the Lamkin Sink Fit Straight Rubber grip. I liked the look, feel, and weight, so I gave it a shot. I've played two rounds since re-gripping. I shot a 71 and 76, with mostly two putts and a few one-putts for a skin. Is it me or the grip? I'll go with the grip! LOL!

I've re-gripped two Bettinardi putters (QB6 & BB56) and one Odyssey with this grip. The feel is excellent and solid. The Odyssey is a 26 year old DF Rossie Blade and this grip makes it feel brand new. I like the heavier feel in a putter, which is needed with faster greens.

Have regripped a few of my putters with this grip. Excellent feel, fits so well.. I have used Lamkin grips for many years on all my clubs.

Great Look

It's not a bad Feeling but to me is too heavy so this one changed my swing weight …. So They looks great but too heavy

My favorite putter grip

I have a variety of grips at my shop but threw this one on right away great feel and fit to my hands.

Incredible grip!

Just threw this grip on my putter and couldn't be more happy with it! Feels incredible in my hands and has put more confidence when I step up to the putts now! Go try it out, you won't be disappointed

Highly recommend

This is the best putter grip on the market. The ergonomic shape really fits my hands comfortably. The Fingerprint technology and high quality rubber compound feels great. It is perfect particularly for Mallet style putters, keeps your hands steady for a straight back and through stroke.