SINKFIT Skinny Pistol Rubber
As the thinnest grip in the SINKFIT line, SINKFIT Skinny Pistol features Lamkin's Fingerprint Technology and Genesis Material to provide a secure feel, optimized surface tack, and unmatched durability. Perfect for the player utilizing a traditional overlap, reverse overlap, or cross-handed grip style and who prefer a thin, pistol shape.
HIGHLIGHTS
Proprietary Fingerprint Technology featuring a consistent micro-texture pattern for outstanding grip comfort with lighter surface traction
Made with Genesis Material that is slightly softer than traditional rubber, but with superior durability
Ergonomic design and distinctive contoured pistol shape promote proper wrist alignment for a more controlled. consistent putting stroke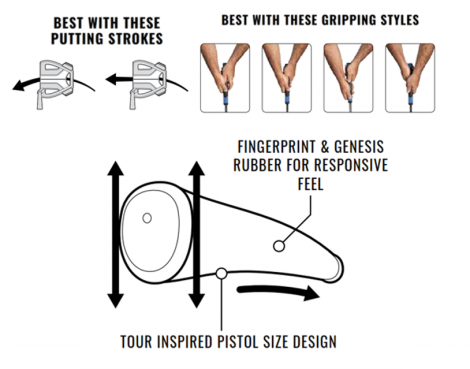 12 Review(s)
for SINKFIT SKINNY PISTOL RUBBER Golf Grips
Bringing the classic pistol into 2019!

The new sink fit skinny pistol grip is perfect! I've been a long time user of the classic ping pistol grip like tiger uses and pretty much every other pistol was designed in envy of and rightfully so. This is that same classic shape and feel but I would describe this new sonar putter etching is a nice modern looking touch but also feels great and secure in the hands without being overly soft. Its definitely a soft grip compared to the deep etched version but not overly soft. Would definitely recommend for anyone who wants something more comfortable than a classic pistol but doesn't want to go to a fat grip.

Try it and you won't look back

This grip has shined light on a place I never saw myself being, with a skinny putter grip in my hands. I had always used a thicker style grip on my putter until I tried the Sink Fit Skinny. I don't see myself ever going back to a thicker grip on my blade putters. The feedback from this grip is unlike any other. Since switching, my distance control has increased greatly. The feel in which you receive to your hands at contact is superb. It's better than anything else I've tried. I have no problem letting the toe of the putter swing and release through my stroke. This is a fantastic grip for any style, but especially blades.

Feels great, incredible feedback from ball impact. Confidence builder on the greens!

Feels great in the hands, soft and the fit is awesome. Weight balances well with Mallet style putter head.

Same size as standard putter grips with a little tacky

If you like a standard pistol putter grip but want to have a better grasp and some extra tackiness, this is the grip! I feel so connected to the club and I am able to get a consistent grip and feel on every putt. I love the natural black and grey but may grab a blue one as well for some spark and extra color! The contrast on the triangle pointing down is great for alignment too!

Classic yet new

This grip is great if you want a classic shape with enhanced technological feel

Great Grip for more feel

This Grip is great love the texture and the size is great for players who like a smaller grip

My favorite Sink Fit grip and an absolute must try for players that want to improve club face control but prefer a traditional size and shape.

The Kink Fit Skinny Pistol Rubber putter grip is an excellent grip for players that prefer more traction and enhanced clubface awareness in a traditional pistol size and shape. Having more control over where my putter was was during my putting arc has given me more confidence and improved my performance on the green. The only thing not perfect about this grip is the large logo. Players that like to see blank grips or minimal distractions will have to adjust with this grip.

A+

Great putter grip. I love the new technology and material with the traditional shape. Best of Both Worlds!

#1 PUTTER GRIP

THIS IS MY FAVORITE PUTTER GRIP BY FAR! GRIP CONTOURS SO PERFECTLY IN YOUR HAND! COMFORT AND STYLE ARE #1! PERFECT WEIGHT FOR MY SCOTTY CAMERON

Best putter grip on the market

This is the best grip on the market for Blade putters. It sits comfortably with the natural shape of your hands. The texture of the Fingerprint technology is really comfortable and feels secure in your hands. It's good for all weather conditions. It still looks great and I've played over 20 rounds with it! Very durable. I'm also making more putts with it.

Would recommend!

I just bought the skinny and really enjoying it so far. I have never liked the larger superstroke type putters but more the ultra slim superstrole and this fits the bill for me. Soft, a little tacky and not too large.

It's a keeper

This grip simply feels "at home" in my hands. I have been using a thicker putter grip in recent years and wanted to go back to something thinner for better feel. The Sink Fit Skinny delivered just that. Remarkable feel. Since switching to this grip my distance control has become much more consistent. I can see myself using this grip for years to come on any flat stick that ends up in my bag.