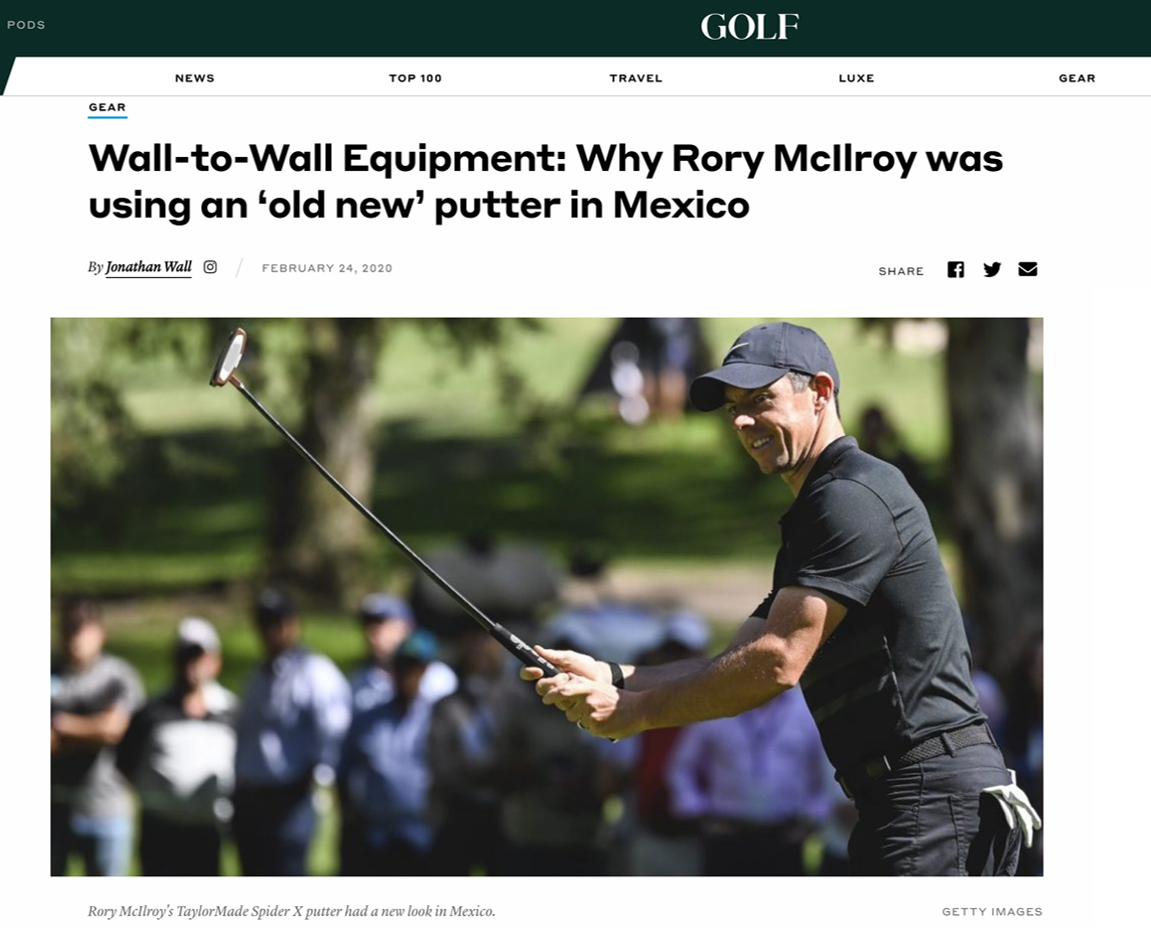 World #1 Switched To Lamkin Sink Fit Putter Grip
Wall-to-Wall Equipment: Why Rory McIlroy was using an 'old new' putter in Mexico
FEBRUARY 24, 2020SHARE
Rory McIlroy's TaylorMade Spider X putter had a new look in Mexico.GETTY IMAGES
---
Something old, something new
There was a time a few years back when Rory McIlroy couldn't settle on a putter. He'd shuffle through multiple TaylorMade heads, without complete success, as he tried to figure out the one part of his game that kept holding him back. Then McIlroy started working with putter whisperer Brad Faxon and found a worthy partner in TaylorMade's Spider X.
Suddenly everything clicked. McIlroy hoisted four trophies in 2019 and has finished outside the top-20 just three times in his last 22 starts. Everything seemed to be trending upward with the putter — McIlroy ranked 24th in strokes gained: putting in 2019, his best finish in the statistical category since it was introduced — but over the course of the last few events, McIlroy started to pick up on some issues that led him to go from 34 to 35 inches in length at the Genesis Invitational.
"[A]t Torrey, sometimes with the 34, my right arm can get a little high and my right shoulder can sort of roll over, but with a 35 a little longer, it sort of puts my shoulder and my right elbow into better position, sort of more on plane with the shaft," he said.
The change felt good initially, but once McIlroy put the putter in play at Riviera, he started to notice even an inch of additional length moved his eye line, " so you sort of stop seeing your lines the way you usually do, and I especially struggled last week on right to left putts because when it's a longer putter and the ball is above your feet, you feel like the putter is up in your sort of belt."
So McIlroy returned to his standard 34-inch Spider X at the WGC-Mexico Championship. But instead of continuing on with the same setup, the four-time major winner made a subtle change, removing the standard red cap putter grip for a Lamkin SinkFit Skinny. While the grip is fairly standard, McIlroy revealed there was a reason behind the switch, which had to do with the thickness of the rubber.
"I went to a slightly thicker grip," he said. "So the thicker grip gets your hands more facing each other and for me gets that right arm tucked in a little bit better and then gets the arm on the shaft clean, and I just stroke it better."
In other words, McIlroy is trying to accomplish something similar to what he was initially seeing with a 35-inch putter by going to a thicker grip at his usual length. It's an intriguing gear change that's worth tracking as we inch closer to the Masters.