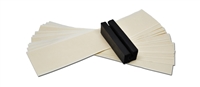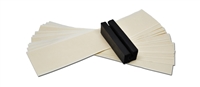 The Lamkin Re-Grip Kit offers golfers a cost-effective and easy alternative to timely and expensive grip installation. The kit includes a rubber vice clamp, 15 strips of water-activated grip tape and easy-to-follow instructions.
15 strips of double-sided grip tape in each kit
1 rubber shaft clamp/vice
Tape strips are water activated for easy installation
Includes regripping instructions
8 Review(s)
for RE-GRIP KIT Golf Grips
Works fine, with some help…

It was almost impossible to install using water only. A drop of dish soap on the end of the shaft or grip to get it started made it much easier. No problems after that.

No thanks, I'll use tape with solvent

This tape is horrible.I nearly destroyed 2 grips because of the difficulty installing with this, Good thing I had some of my other tape and solvent. Never again.

Will be on my list for my next regrip order

Easy to use with the instructions provided. First timer at regripping and no issues.

Works good if you know how to use it.

This kit actually works great if you use some type of agent with the water. I used awsome cleaner and the grips slid right on. I did ruin one grip just using water only so the agent makes the difference. The grips were dry in a couple hours and ready the next day.

Works great!

I regripped all of my clubs using the water based tape and worked just fine. Better yet, I was able to do it inside and not have to worry about solvent everywhere. Admittedly, it was a little difficult with water only, but if you add a small amount of dish soap with the water in a water bottle the grips slide right on. I've played with them all season with zero slipping.

Excellent Product!!!

Excellent product and easy to install if you follow their instructions. I was playing golf with my new oversized Lamkin grips the very next day!!

its no good

this product is no good. I ruined one grip before I gave up. The double sided tape and water are worthless.

Don't buy this product

I bought this kit because i wanted to try "water activated" tapes. They are not water activated. I poured water over it and waited and waited for it to work. it never did. Also tapes are too stiff and don't wrap around easily. I called Lamkin and complained and they told me to use solvent. What?? Why do they sell them as "water activated"?