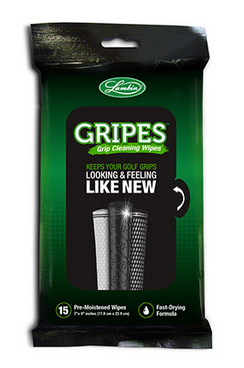 30 INDIVIDUAL GRIPES – Grip Wipes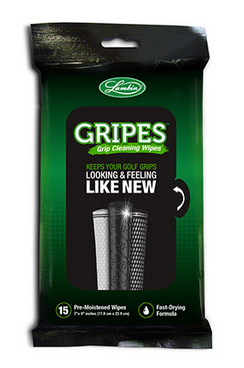 Keep your golf grips looking and feeling like new with Lamkin GRIPES grip cleaning wipes. Formulated specifically for golf grips, GRIPES wipes quickly remove dirt and grime from your grips and reactivate surface tackiness.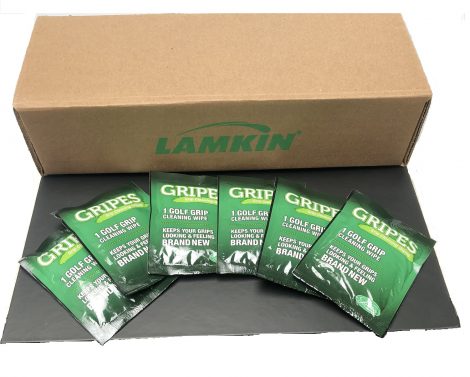 30 large surface wipes individually packed
Exclusive cleaning wipes created specifically for golf grips
Immediately reactivates surface tackiness
Keeps grips looking and feeling like new
Convenient travel pack fits neatly into golf bags
Each wipe can clean 5-10 grips
17 Review(s)
for 30 INDIVIDUAL GRIPES – GRIP WIPES Golf Grips
Hi Dave,

So happy that it works for you on Golf Pride grips. It's even better on Lamkin grips 🙂

Question – we're trying to get a better understanding between golfers playing Wrap grips vs. non Wrap grips. I'd be happy to send you more Gripes for your assistance with the following questions 🙂
– Are you playing that grip because it is a wrap?
– What other wrap grips have you looked at?
– Have you looked at CP2 Wrap vs. 2G? Comments?
– Why Golf Pride 2G?
– How would you describe the Golf Pride 2G material in terms that meet your expectations?

Many thanks for your support.

Pascal
VP Product and Marketing

Perfect.

Buy these. Grips like new

Very Useful

Very useful. It does an excellent job of cleaning grips and keeping them tacky. (Grips last much longer if you clean off sweat, sunscreen etc.) One towelette will easily clean the grips of a full set of clubs. It cleans the heads too, but only about half a set under muddy conditions. Light enough to carry in your bag and resealable. With this product you can clean your clubs anywhere and anytime. Much faster and neater than monkeying around with buckets and hoses.

Easy to use

These grip wipes work very well. They are easy to use. With one or two passes, your grips are clean and in minutes ready for use. It's a good product and very practical..

Very pleased

husband used it to clean the golf grips of my son's clubs & was very pleased. Removed a lot of the dirt & almost restored the grips to its original condition when we bought my sons' set of golf clubs

Work great

These work great at pulling dirt, grease and anything else off of your golf grips. One wipe (of the 15 per package) can do an entire set. They rags are tough enough to scrub the grips hard enough to rough them up a little bit and get them as good as new. They'll extend the life of grips.

Work wonderfully

These work wonderfully and are a nice upkeep product to use in between grip cleanings.

OK

OK, but not worth the money. 409 works better.

Work as advertised

They work as advertised. Worth picking up and storing in your bad just in case you find yourself playing another round before you have had the chance to clean your grips. Great in a pinch.

Highly recommended

Use these to keep my white (and one red) grips looking new. I use only two wipes to clean all 13 of my clubs. Well definitely buy more.

Great

They do great, the wife thought they were wet wipes and told me they were horrible, as I agreed bcuz they are meant fir grips. Clean with tack.. so they do work perfectly

They do a great job….

I got seriously weary of constantly replacing grips. Most of the time the wear and tear was from the oils and sweat that was left on my clubs in the Florida sun and heat. I re gripped with Winn grips and began to use this product after every round. They do a great job of keeping the "tack" on the grips as well as removing the dirt left behind. Neatly packaged, they follow me on the road also.

Restore that tacky feeling

These wipes definitely restore that tacky feeling to the grips, and you can see the rubbish that they're getting off. I think if I use these on a regular basis my grips will feel a lot better. In the past I have cleaned grips in soapy water with a scrubbing brush, and this leaves the grips feeling similar – it's just a lot more convenient to use these wipes any time, any place.

So much easier

So much easier than the old "wet, scrub, rinse, wipe dry" method that seemed to take forever. With Gripes you simply pull a wipe, wipe down 5-6 grips, let them air dry for a few minutes, and done. Took me about five minutes and three Gripes to clean all 15 clubs (shhh… don't tell the USGA!), and another five to let them air dry. With it being this easy I'm thinking I will probably clean my grips much more frequently. They haven't been this tacky in a good long time.

Prefer this method

Got em quick and as described, have already used them and will prefer this method to the scrubbing and drying required before!

Beats soap and water

Kind of surprised at how well this product works. Beats soap and water or just a wet towel. Easy to use and grips feel like new again.